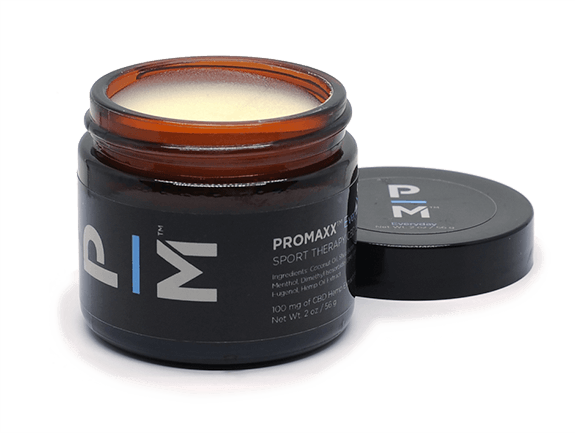 CBD topical pain relief for the athlete in all of us.
ProMAXX Sport Therapy CBD Salve provides athletes of all levels with pain relief and aids in muscle recovery. Each formula contains a high concentration of active ingredients with beneficial anti-inflammatory, analgesic, and antioxidant properties along with pure CBD hemp extract grown in the U.S. These all-natural topicals penetrate to the deepest layers of the skin, where it matters most.
Changing the game, one athlete at a time.
THE ProMAXX DIFFERENCE:
ProMAXX CBD Salve was created to effectively relieve pain. It's a thoughtfully constructed formula that has all the necessary ingredients to achieve it's function without the use of fillers, stabilizers, scents, and preservatives.
THE CBD DIFFERENCE:
The CBD in ProMAXX CBD Salve is extracted using a CO2 extraction method and then refined further; removing all of the plant waxes, lipids, fats, and other chemical compounds to produce a pure 99% CBD isolate. This method results in a more stable and less oily formulation.
THE "WINNING" COMBINATION
The only combination of acupuncture needles and CBD salve engineered for athletes and made to be used in conjunction or on their own - is changing the game - one athlete at a time!
DBC™ ProMAXX Needles are the only needles manufactured to have the firm feel of a thicker needle with a thinner gauge, making it ideal for use on athletes of all levels.
ProMAXX™ CBD Salve is the only CBD topical made for athletes of all levels with ingredients chosen specifically to help penetrate the skin to the deepest layers, targeting the source of the pain.


| | | |
| --- | --- | --- |
| ACTIVE INGREDIENTS & COMMON USES* | EVERYDAY | ELITE |
| Menthol - Pain reliever, dilates pores for increased delivery system and increased circulation. Analgesic, anti-inflammatory, antimicrobial, antioxidant. | 40% of Active Ingredients | 40% of Active Ingredients |
| Camphor - The cooling effects of Camphor essential oil soothes inflammation, redness, and minimizes muscular aches and pains. | | 15% of Active Ingredients |
| DMI (Dimethyl Isosorbide) - Enhances delivery and penetration. Helps pull key ingredients past the epidermis and dermis to the hypodermis, which is where they need to be to work properly. | | |
| Clove Bud Oil - Anti-inflammatory, antioxidant, pain relieving. | | |
| Eucalyptol - Anti-inflammatory, antioxidant, pain relieving. | | |
| Eugenol - Provides a pleasant, spicy, clove-like scent and helps alleviate pain and inflammation. | | |
| CBD Isolate - Helps to reduce inflammation, and relieve chronic and acute muscle and joint pain. | 100mg CBD | 250mg CBD |