Net of Knowledge is an exciting, new continuing education platform built specifically for TCM and integrative health practitioners.
We are industry stakeholders who have come together from around the globe with a common mission: to inspire and support practitioners like you in your pursuit of knowledge and growth, so you can keep giving more to the patients and communities you support.
Come learn from some of the brightest minds of our field in our engaging digital environment.
To support your continuous self-development, we wanted to make it easier for you to keep learning from the teachers you love, even when you don't need the CEUs. A lot of time goes into making the quiz and certificate applications for a course—if you don't need it, why pay for it?
If you see a course or series you're interested in, but aren't sure if you need it towards your CEUs, just purchase the 'Course Only' or 'Series Only' option, and start learning right away! If you decide you need the CEUs at a later time, you can purchase the CEU add-on then.
Please note, CEU add-ons can only be applied if you have the course or series in your account, to begin with. If you buy a CEU add-on on its own, you will need to go back and buy the course or series respectively.
You have selected CEUs ONLY option. The CEU add-ons can only be applied to courses you already have in your Net of Knowledge account.
If you have purchased a CEUs ONLY option first by accident, you can come back here and purchase the COURSE ONLY option, and they will link back up automatically.
Course Overview
Abdominal acupuncture is a relatively new form of acupuncture which was developed by Prof. Bo ZhiYun over the course of approximately 20 years, it was introduced in China in 1991. It is still relatively unknown in many parts of the West and offers a comprehensive and powerful system to treat a multitude of Muscular-skeletal, painful, acute and chronic conditions (see Dave Shipsey's book "Mastering the Art of Abdominal Acupuncture, a concise guide to treating numerous painful conditions" the only book written in English on this topic). It is a Micro-System with Mega Power, for many reasons, which will be detailed in this webinar. Abdominal acupuncture is easy to incorporate into your practice, it is simple to learn and once the subtleties of this system are understood and refined it can be performed in a fast effective and reliable way. It offers clients an almost pain-free form of acupuncture that has many nurturing effects which enables it to give a multitude of side benefits that are more far reaching than regular acupuncture. It allows many problems to be treated in one session without the need for complicated prescription formulation or complex diagnosis. This webinar is designed to give you an understanding of all aspects of Abdominal Acupuncture necessary to utilize this wonderful pain - free system in your clinic. You will discover why abdominal acupuncture packs such a powerful therapeutic punch, and you will also learn a number of tried and tested methods to treat a variety of commonly seen painful conditions. The theory is supported with real life case histories from Dave Shipsey's practice. There are also two live demonstrations which will allow you to observe the subtleties of abdominal diagnosis, point location, abdominal needle techniques and formulating abdominal prescriptions. You can observe the abdominal treatment protocol in a step - by - step manner, so that you are confident to use this system upon completion.
Objective
Gain an appreciation of the theory behind Abdominal Acupuncture (AA).
Gain an appreciation of the importance of using AA landmarks and recognizing abdominal patterns will be attained, thus ensuring correct abdominal point location.
Understand the Anatomical significance of AA points to ensure fast diagnosis and treatment.
Obtain a deeper comprehension of AA points used will assist with formulating prescriptions.
Gain an understanding of empirical prescriptions.
Outline
0 hrs - 30 min
Discover the main principles behind the theory of Abdominal Acupuncture and how Prof Bo. discovered and refined Abdominal Acupuncture using Ren 8 (Shenque) as the epicentre of abdominal.
30 min - 1 hrs
Learn about the different depth's or levels which abdominal uses and about the Miraculous Turtle and the Bagua.
1 hrs - 1.5 hrs
Learn all you need to about abdominal point location, how to find the start point and how to locate the special unique Ab points.
1.5 hrs - 2 hrs
The regular function of points used on the abdomen are discussed and then the special significance of all the abdominal points will be explained to assist you to understand the logic behind the use of points in abdominal prescriptions.
2 hrs - 2.25 hrs
We look at the importance of the abdomen as a diagnostic tool, you will learn how to interpret different signs from the abdomen, such as the shape of the naval and what that might mean to enable you to formulate your prescriptions better.
2.25 hrs - 2.75 hrs
You will discover how to find and interpret the ahshi points that are relevant to particular treatments. A number of standard abdominal prescriptions are explored in detail with attention to the uses and special functions of each prescription.
2.75 hrs - 3.75 hrs
You will learn the importance of your posture and your clients, so that treatments are more effective. You will learn how to gain more information from the needles, and how adjusting needle depth can maximize the impact of ahshi points.
3.75 hrs - 4.25 hrs
You will learn how to formulate your own prescriptions and you will also learn a number of tried and tested abdominal prescriptions for treating Lumbar and Sciatic pain.
An Introduction to Abdominal Acupuncture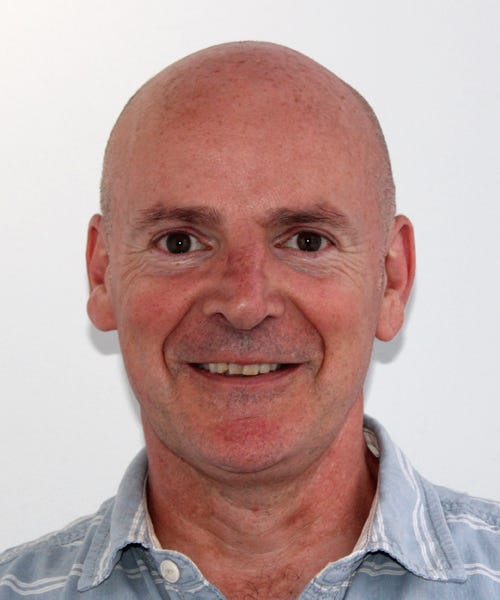 About Dave Shipsey
Dave Shipsey is a Registered Acupuncturist, author and teacher. He has been practising acupuncture in Dublin since 2001 and has been specialising in Abdominal Acupuncture since 2002. Dave completed a "Train the Trainer" program in 2011 to learn the best and most up-to-date methods of communicating knowledge. Dave Shipsey has designed his own Abdominal Acupuncture (AA) training program (CPD accredited) for qualified and final-year student acupuncturists. He has run the program in Ireland, the UK and France; each course has received great reviews and testimonials from participants. The courses have evolved organically over the years and Dave feels that he has now found the perfect balance of theory and practice. In October 2015, Dave Shipsey published his book "Mastering the Art of Abdominal Acupuncture, A Concise Guide to Treating Numerous Painful Conditions." This peer-reviewed book is the first of its kind to be published in English on Abdominal Acupuncture. It is intended as a teaching manual for qualified acupuncturists and students of acupuncture.
*CEU/CPD Approvals
Some accreditation bodies have course approval expirations. If the approval expires, you will see a notice next to the name with a date of expiration: "[Until YYYY/MM/DD]". Please factor this date into your own renewal deadline. If an approval expires, you will be able to request that it is renewed and we will submit it for you within 2 business days. Renewals normally come back to us after 30 days. If your accreditation body is not listed under the "Approved" section, you may find it under the "Pending" section. That means that it is either currently pending approval, or that it is available for you to request: "[Upon Request]". New course approvals usually come back to us after 45 days. We use an automated system within our platform that allows you to make these requests in an easy and convenient way. Just visit the course page in your Net of Knowledge account and click the "Request Approval" button at the top. Each "Course and CEUs/CPDs" purchase grants you 1 request per accreditation body. If you request a course approval and do not complete it before its new expiration date, you will need to purchase another "CEU/CPD Add-On" to make another request. If the course is ineligible for approval with an accreditation body due to their subject-matter policies, it will be listed as "[Ineligible]", and no requests will be possible for the course.
Accessing Your Course
After checking out, your email address will be sent to Net of Knowledge securely and you will gain instant access to your course. If you do not have a Net of Knowledge account yet, one will be created for you automatically and you will receive an email with a link to set up your password. Log in to your account at netofknowledge.com and start learning!
Unlimited Access & CEUS
You will have unlimited access to this course for as long as it is on Net of Knowledge, so that you can keep reviewing and learning from it over the years. CEU requirements must be completed within 1 year from the purchase. During this time, you must view the training and complete any required documents to get your certificate. You must also print and save your certificate for your own records.
Cancellation Policy
Please note we do not offer refunds for our recorded online courses/webinars.
Note
This recording is available in an online format only; you will not receive a DVD or physical copy of the recording – it is only available to watch as a course to watch on the internet through your online account.