Net of Knowledge is an exciting, new continuing education platform built specifically for TCM and integrative health practitioners.
We are industry stakeholders who have come together from around the globe with a common mission: to inspire and support practitioners like you in your pursuit of knowledge and growth, so you can keep giving more to the patients and communities you support.
Come learn from some of the brightest minds of our field in our engaging digital environment.
To support your continuous self-development, we wanted to make it easier for you to keep learning from the teachers you love, even when you don't need the CEUs. A lot of time goes into making the quiz and certificate applications for a course—if you don't need it, why pay for it?
If you see a course or series you're interested in, but aren't sure if you need it towards your CEUs, just purchase the 'Course Only' or 'Series Only' option, and start learning right away! If you decide you need the CEUs at a later time, you can purchase the CEU add-on then.
Please note, CEU add-ons can only be applied if you have the course or series in your account, to begin with. If you buy a CEU add-on on its own, you will need to go back and buy the course or series respectively.
You have selected CEUs ONLY option. The CEU add-ons can only be applied to courses you already have in your Net of Knowledge account.
If you have purchased a CEUs ONLY option first by accident, you can come back here and purchase the COURSE ONLY option, and they will link back up automatically.
Course Overview
Unique amongst philosophical systems the world over, only the Chinese have metal as an element. Why? Born from deep in the earth, metal is hard and durable, yet it can be softened by fire and easily reshaped into new forms and it can be sharpened to a cutting edge. Where would Butcher Ding be without his ox-dismembering knife or Zhong Kui the exorcist without his demon-expelling sword? Where would we be without our fine qi-conducting needles to heal or the sea captain without his delicate compass needle to guide him? Where would Daoist temples be without their bronze cauldrons for offerings to the ancestors or the internal alchemist without the transformative cauldrons of the three dan tian in the belly, chest and head? Our associations with metal are often utilitarian and mundane, lacking the sense of richness, preciousness, gold and perfection that is an intrinsic part of the Chinese. With its hallmarks of precision and control, metal brings focus to the limitations of time and concentration to the restrictions of space. From breath control to po control, the lungs regulate our qi in one of the most fundamental body rhythms, that of respiration, from the first breath that sees us in to the last breath that takes us out. Blending the practicality of Chinese medicine with the wisdom of internal alchemy, we will explore metal as a deep, hidden treasure. What better time to do so than in this year of the metal ox, following hard on the dramas of the metal rat year of 2020!
Objective
Understand the depth and richness of the concept of metal in Chinese medicine.
Understand the relation of metal with sound
Learn which lung points particularly expel the gui/demons/ghosts
Understand the relation of metal with stems and branches
Understand the particular role of metal in internal alchemy
Outline
0 hrs - 15 min
The qualities of metal, its uniqueness, its Chinese character jin ?, metal or gold. Hard, resistant and long-lived, yet also able to be shaped and reshaped, especially by fire and heat. Also gold, precious, rich, refined.
15 min - 30 min
Metal and Sound. Bronzes, bells, gongs. Clear ringing, resonant, far-reaching sound. Lungs as door of the voice. Points for the voice: Lu 10, Lu 9, Lu 6, Lu 3. Shang metal note restores clarity and regulation. Shang points: Lu 11, LI 1, Kid 17.
30 min - 45 min
Metal and Exorcism. Metal in the swords and lances of shamans and later in the needles of acupuncture to expel the gui. 5 out of 11 lung points have gui symptoms: Lu 11, Lu 5, Lu 10, Lu 3, Lu 9. Also LI 11, and LI 10 + St 36.
45 min - 1.5 hrs
Metal and Time Part 1. Rhythms jie ?. Venus, metal planet, morning star, planet of war. Metal's power to cut, kill, separate. Yang metal Stem 7 geng ?, yin metal Stem 8 xin ?. Yang metal monkey Branch 9 shen ?, yin metal rooster Branch 10 you ?.
1.5 hrs - 1.75 hrs
Metal and Time Part 2. Lungs linked to autumn but also to spring and early morning (3 - 5 am) through Branch 3. Initiating, activating power, first meridian. 2020 Metal Rat and 2021 Metal Ox: Covid years affecting lungs and harsh metal restrictions.
1.75 hrs - 2 hrs
Metal and Time Part 3. 24 jie Qi, solar fortnights. In the 12 lunar months, the lung is related to the first month. Questions and Answers.
2 hrs - 2.25 hrs
Metal in Internal Alchemy. Aim longevity, unified consciousness, using only what you have within yourself eg the three treasures of Jing Qi Shen. Attunement of the small self with the cosmos. Metal role to concentrate and essence. Alchemical terms.
2.25 hrs - 2.5 hrs
The cauldron, ding ?, place of firing, refinement and transformation. Hexagram 50, Ding, the Cauldron, emblematic of the creation of a new state. Neijingtu Inner Landscape Map, Xiuzhentu Cultivating Authenticity Map.
2.5 hrs - 3 hrs
Qi between material Jing and immaterial Shen. Unconscious breath made conscious. 3 dan tian, 3 passes. Planting the gold coins of the breath, they rise as fruits on the mulberry trees, then stars in the sky. Transformation, regeneration, reversal.
Discover Metal as a Deep Hidden Treasure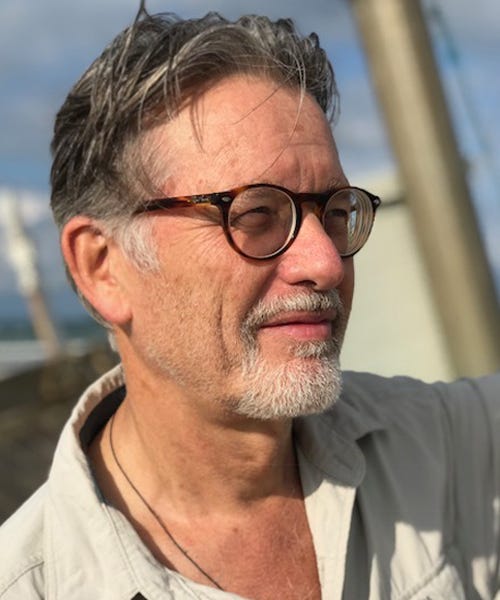 About Peter Firebrace
Peter Firebrace (FBAcC) began his acupuncture studies in 1980 at the International College of Oriental Medicine (ICOM) in England, then did further studies with the European School of Acupuncture in Paris and the College of Traditional Chinese Medicine in Chengdu, China. He has also studied Chinese language and philosophy with the Ricci Institute in Paris. Past Principal of ICOM (1985-1990), he was a co-founder of Monkey Press, publishing the Chinese Medicine from the Classics series. Co-author of A Guide to Acupuncture, he has produced educational videos on The Roots of Chinese Medicine, The Jingluo Meridian Network and The Circle of Ren and Du Mai, a book of poems, Cloud Falls Rap, and two albums of songs and music videos on Chinese medical and Daoist themes, Sea Gong and Chinese Medicine Blues. He teaches internationally and now lives, writes and practices acupuncture by the sea in northern Denmark. Peter is in the process of setting up Guan Academy of Chinese Medicine for online teaching.
*CEU/CPD Approvals
Some accreditation bodies have course approval expirations. If the approval expires, you will see a notice next to the name with a date of expiration: "[Until YYYY/MM/DD]". Please factor this date into your own renewal deadline. If an approval expires, you will be able to request that it is renewed and we will submit it for you within 2 business days. Renewals normally come back to us after 30 days. If your accreditation body is not listed under the "Approved" section, you may find it under the "Pending" section. That means that it is either currently pending approval, or that it is available for you to request: "[Upon Request]". New course approvals usually come back to us after 45 days. We use an automated system within our platform that allows you to make these requests in an easy and convenient way. Just visit the course page in your Net of Knowledge account and click the "Request Approval" button at the top. Each "Course and CEUs/CPDs" purchase grants you 1 request per accreditation body. If you request a course approval and do not complete it before its new expiration date, you will need to purchase another "CEU/CPD Add-On" to make another request. If the course is ineligible for approval with an accreditation body due to their subject-matter policies, it will be listed as "[Ineligible]", and no requests will be possible for the course.
Accessing Your Course
After checking out, your email address will be sent to Net of Knowledge securely and you will gain instant access to your course. If you do not have a Net of Knowledge account yet, one will be created for you automatically and you will receive an email with a link to set up your password. Log in to your account at netofknowledge.com and start learning!
Unlimited Access & CEUS
You will have unlimited access to this course for as long as it is on Net of Knowledge, so that you can keep reviewing and learning from it over the years. CEU requirements must be completed within 1 year from the purchase. During this time, you must view the training and complete any required documents to get your certificate. You must also print and save your certificate for your own records.
Cancellation Policy
Please note we do not offer refunds for our recorded online courses/webinars.
Note
This recording is available in an online format only; you will not receive a DVD or physical copy of the recording – it is only available to watch as a course to watch on the internet through your online account.