Net of Knowledge is an exciting, new continuing education platform built specifically for TCM and integrative health practitioners.
We are industry stakeholders who have come together from around the globe with a common mission: to inspire and support practitioners like you in your pursuit of knowledge and growth, so you can keep giving more to the patients and communities you support.
Come learn from some of the brightest minds of our field in our engaging digital environment.
To support your continuous self-development, we wanted to make it easier for you to keep learning from the teachers you love, even when you don't need the CEUs. A lot of time goes into making the quiz and certificate applications for a course—if you don't need it, why pay for it?
If you see a course or series you're interested in, but aren't sure if you need it towards your CEUs, just purchase the 'Course Only' or 'Series Only' option, and start learning right away! If you decide you need the CEUs at a later time, you can purchase the CEU add-on then.
Please note, CEU add-ons can only be applied if you have the course or series in your account, to begin with. If you buy a CEU add-on on its own, you will need to go back and buy the course or series respectively.
You have selected CEUs ONLY option. The CEU add-ons can only be applied to courses you already have in your Net of Knowledge account.
If you have purchased a CEUs ONLY option first by accident, you can come back here and purchase the COURSE ONLY option, and they will link back up automatically.
Course Overview
The Ontake Method uses a Japanese moxibustion tool made of bamboo filled with burning moxa wool to roll, tap and lightly press on the meridians. The rhythmic application of heat and pressure, especially on the back, consolidates the pulse and, working with the root treatment, can trigger rapid shifts in patients' body condition and mood.

This highly enjoyable two-hour recorded webinar explores Ontake's origins in Japan, with an overview of historical and contemporary uses. Using numerous short video clips, dynamic presentations, and frequent breaks for questions and reflection, students learn how to load and light Ontake and contrast the different application methods for deficient and excess areas along channels.

In this highly practical introductory two-hour, you will learn:

(1) How to load, light and extinguish Ontake
(2) Protocols to augment the root treatment
(3) Protocols for assessing the lustre of the skin and balancing kyo and jitsu with Ontake
(4) A simple routine for treating the back to consolidate the pulse

ONTAKE 101. Oran Kivity also has another short course called Ontake 101. What's the difference between that one and this one?"

This webinar re-presents the Ontake 101 information in a live setting with participants' questions and answers, focusing on treating the back instead of treating midline pain. This one is two hours; Ontake 101 is one hour.

Depending on your preference and approach, you should choose either this module or Ontake 101.
Objective
Discover the origins or Ontake, and theoretical models for its application.
Learn how to load, light and extinguish Ontake.
Assess the lustre of the skin and balance deficiency / excess (kyo and jitsu) with Ontake.
Apply a protocol to augment the root treatment of Meridian Therapy or Toyohari.
Adapt a simple protocol for treating the back to consolidate the pulse.
Outline
0 hrs - 15 min
Ontake Origins, uses and applications.
15 min - 30 min
Loading and lighting Ontake.
30 min - 45 min
Reloading and relighting Ontake.
45 min - 1.25 hrs
Application methods 1 - Supplementing and draining What's the difference between light rolling and percussive tapping? How do we approach kyo and jitsu findings on the skin? Examining the function and feel of light tapping and rolling.
1.25 hrs - 1.75 hrs
Application methods 2 - Supplementing and draining Examining the function and feel of more forcefully tapping, deeper rolling and superknocking.
1.75 hrs - 2 hrs
Bamboo Mini - A simple approach to reinforcing the root treatment by balancing kyo and jitsu on the back.
Ontake Moxibustion for Meridian Therapy and Toyohari Practitioners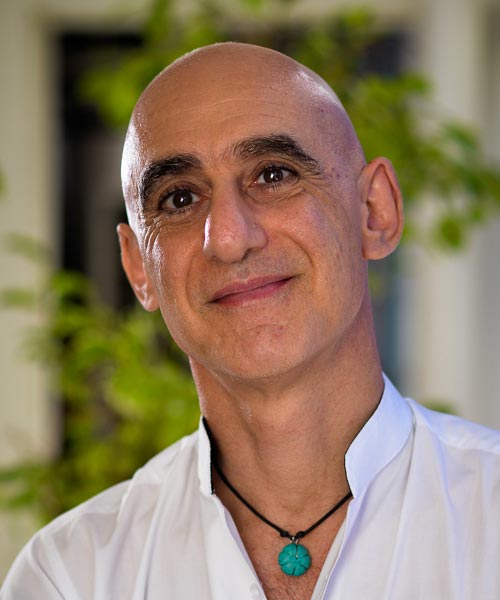 About Oran Kivity
British acupuncturist Oran Kivity trained in Europe, China, and Japan. He ran a busy London practice from 1987 to 2004, and in 2000, he was a founder member of Toyohari UK, the British branch of the Toyohari Association of Japan. He lectured in acupuncture at the University of Westminster in London from 1994 to 2004 and was a teaching assistant for Stephen Birch, one of the foremost authorities on acupuncture, both in Europe and in South East Asia. Oran's workshops are lively and informative, with a focus on hands-on practice. In 2005, Oran moved to Malaysia, and in 2020, to Taiwan, where he practises and writes. Passionate about Japanese acupuncture, he continues to teach internationally and online with workshops in Japan, Malaysia, Indonesia, the UK, France, Spain, Croatia, Israel, USA and Brazil.He is the author of Moxa in Motion with the Ontake Method, and Hirata Zone Therapy with the Ontake Method.
*CEU/CPD Approvals
Some accreditation bodies have course approval expirations. If the approval expires, you will see a notice next to the name with a date of expiration: "[Until YYYY/MM/DD]". Please factor this date into your own renewal deadline. If an approval expires, you will be able to request that it is renewed and we will submit it for you within 2 business days. Renewals normally come back to us after 30 days. If your accreditation body is not listed under the "Approved" section, you may find it under the "Pending" section. That means that it is either currently pending approval, or that it is available for you to request: "[Upon Request]". New course approvals usually come back to us after 45 days. We use an automated system within our platform that allows you to make these requests in an easy and convenient way. Just visit the course page in your Net of Knowledge account and click the "Request Approval" button at the top. Each "Course and CEUs/CPDs" purchase grants you 1 request per accreditation body. If you request a course approval and do not complete it before its new expiration date, you will need to purchase another "CEU/CPD Add-On" to make another request. If the course is ineligible for approval with an accreditation body due to their subject-matter policies, it will be listed as "[Ineligible]", and no requests will be possible for the course.
Accessing Your Course
After checking out, your email address will be sent to Net of Knowledge securely and you will gain instant access to your course. If you do not have a Net of Knowledge account yet, one will be created for you automatically and you will receive an email with a link to set up your password. Log in to your account at netofknowledge.com and start learning!
Unlimited Access & CEUS
You will have unlimited access to this course for as long as it is on Net of Knowledge, so that you can keep reviewing and learning from it over the years. CEU requirements must be completed within 1 year from the purchase. During this time, you must view the training and complete any required documents to get your certificate. You must also print and save your certificate for your own records.
Cancellation Policy
Please note we do not offer refunds for our recorded online courses/webinars.
Note
This recording is available in an online format only; you will not receive a DVD or physical copy of the recording – it is only available to watch as a course to watch on the internet through your online account.